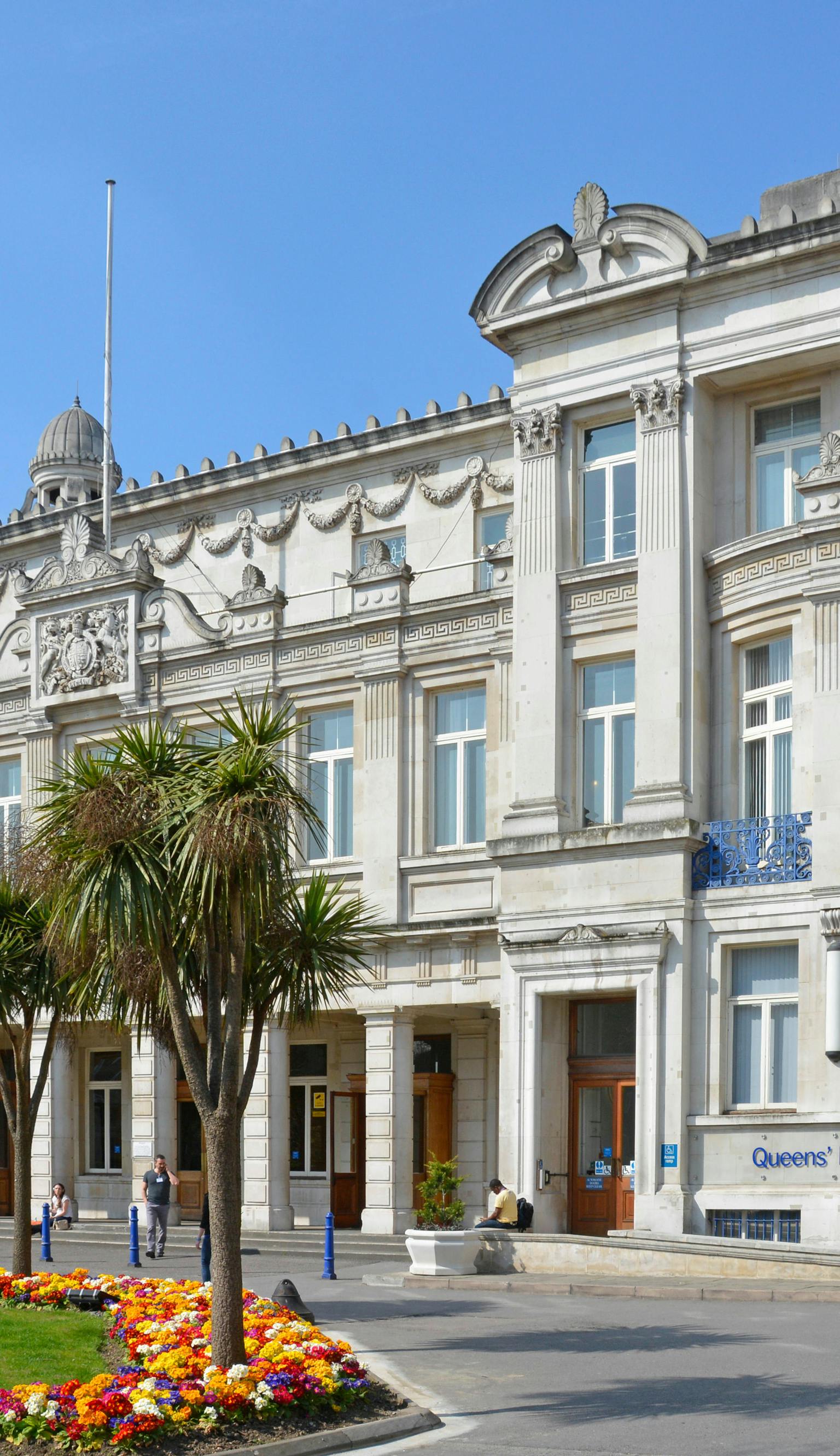 Location

London & South East

Client

Queen Mary University of London
Purcell were appointed to assess the cross-departmental use of Queen Mary University of London's Queen's Building and explore options for its reorganisation to meet a diverse and varied brief of administrative functions, learning and teaching accommodation and student-facing services.
Queen Mary University of London (QMUL) is a highly ranked Russell Group university with a long and distinguished history built on four historic institutions stretching back to 1785. Like many modern universities, QMUL's estate spans several continents with five separate sites in London alone and campuses in Paris, Malta, China and Singapore.
Located at the heart of QMUL's Mile End campus in London, is the Grade II-listed Queens' Building. As well as space planning and adaptive reuse of the existing interiors, Purcell has explored the potential to infill the existing central courtyard to create a spectacular internal atrium providing informal breakout space, social and café areas and amphitheatre-style seating.
The Queens' Building
The Queens' Building is an ornate, classical-style building dating from 1887 that was originally built as the 'People's Palace'. It is highly significant for having been conceived as a place of both entertainment and education. As well as being very popular locally, its concerts were broadcast by the BBC until 1931, giving it a much wider audience. Over 130 years, the original small technical school has blossomed into an internationally renowned university.
With a gross area of nearly 13,500sqm over six floors, the building presently provides a range of accommodation, that includes administrative departments such as estates and maintenance, finance and IT, as well as teaching departments. In plan, the building is made up of a series of wings, with a square, central courtyard. Originally this space was a covered concert hall but was remodelled following a fire in the early 20th Century. To the rear of the building is the impressive Octagon (formerly 'the rotunda'), which was historically the Queen Mary library. In 2006 the Octagon was converted into an event space.
Brief
Both geographically and historically central to the university's campus, the vision for the Queens' building is to be a hub for student activity. As the back of house administrative services look to be relocated off-campus, this provides an opportunity to appraise the building's capacity and align this with key student-facing facilities.
Central to the brief is the opportunity to revolutionise QMUL's student services. Over the past few years, the mental health and wellbeing of students have been at the forefront of the higher education debate, where universities have responded to the promotion and awareness of mental health and wellbeing, enabling both students and staff to thrive and succeed to their best potential.
QMUL's approach is to create a single location for student services, that combines administrative and technical services with health and wellbeing support (such as counselling and GP services). This holistic approach offers operational wayfinding benefits, however, the arrangement of circulation, triage and touchpoints is carefully managed to respond to the specific emotional sensitivities of each service.
Challenges
QMUL provides world-class facilities that meet the 21st Century expectations of students, staff and visitors. Whilst their historic building stock represents their long and distinguished history, it's restrictions and sensitivities can present challenges to modernisation and optimised space utilisation.
Purcell's understanding of historic built fabric has set the foundations for the sensitive, yet innovative proposals for the Queens' Building. A detailed assessment of the significance of the building undertaken by Purcell's Heritage Consultancy Team coincided with an elemental and structural assessment of the existing plan arrangement. This will enable the reinstatement of many original room proportions, providing a heritage benefit as well as fulfilling the university's detailed spatial brief. As well as designing to meet today's student's requirements, the proposals explore future pedagogical practices and the need to provide flexible and adaptable spaces.
The project is to be delivered as a series of phases to accommodate a complex decanting strategy of the building.
Design Outcome
As well as designing to meet today's student's requirements, the proposals explore future pedagogical practices and the need to provide flexible and adaptable spaces. Delivered in a series of phases to accommodate a complex decanting strategy of the building, Purcell's proposals for the first phase reinstate original room proportions and ceiling heights, opening up former cellular spaces to provide flexible, IT-rich, flexible flat floor teaching spaces and group study rooms.
The second phase will develop the health and wellbeing aspects of the brief. Purcell are presently assisting with developing the brief and feasibility for this phase.
Client: Queen Mary University of London
Location: London, UK