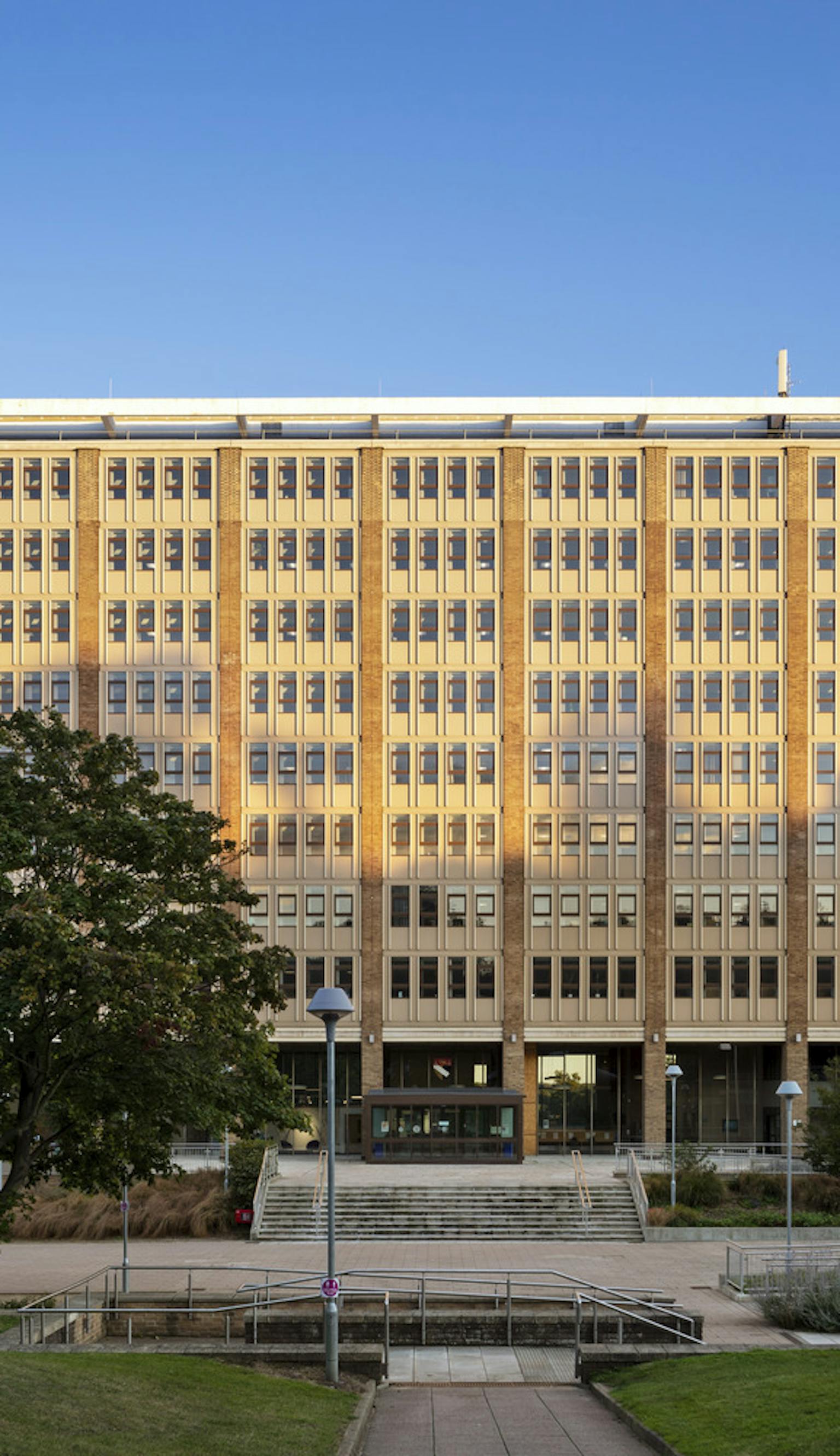 Location

East

Client

Norfolk County Council

Awards

2022 Blue Badge Access Awards, Leonard Cheshire Award - Most Inclusive Venue/Organisation
This ambitious and collaborative scheme between client, stakeholders and project team has successfully realised Norfolk County Council's vision for equal opportunities and inclusivity within their staff headquarters.  
Recently presented with the Blue Badge Access Award for Most Inclusive Building, the refurbished Norfolk County Hall has created a universally accessible workplace within the original office building. 
Re-Imagining Workspaces
The renovation of Norfolk County Hall has introduced universal access throughout the building, encompassing inclusive workspaces, public areas, and new external cladding. This radical transformation has undone the dislocated offer created by gradual improvements undertaken over the last 40 years. 
Purcell has worked with the Council from procurement to delivery as Architect and Lead Designer: from running the early consultations with stakeholders to define (and redefine) the brief, through to the design and build phase alongside Mott MacDonald, then within the Mace Interiors team.
Open, adaptable spaces, featuring adjustable sitting or standing desks, replace outdated cellular offices. Extended staff facilities include more showers and locker areas, supporting sustainable travel and the Council's tidy desk policy.
A careful pattern of hanging acoustic barriers and coordinated fittings manage noise within the open-plan environment. Early collaboration with the furniture supplier, who held a position on the design team at the outline design stage, aided this process, ensuring that the fit out was able to balance noise management within the open plan space.
As a result, the carefully designed breakout spaces, formal meeting rooms, booths and quiet spaces are both united and independent within the workspace, seamlessly accommodating varied staff needs. Booths allow private conversations to take place next to open, creative spaces, whilst calm working areas are enhanced by biophilic moss walls, bringing a hint of the outside within.
Technology has been fully integrated into desks across the refurbished civic centre. In addition, all spaces are now served with smart provision for easy document sharing: this uninterrupted connectivity extends into the staff's new restaurant area, offering another collaborative environment.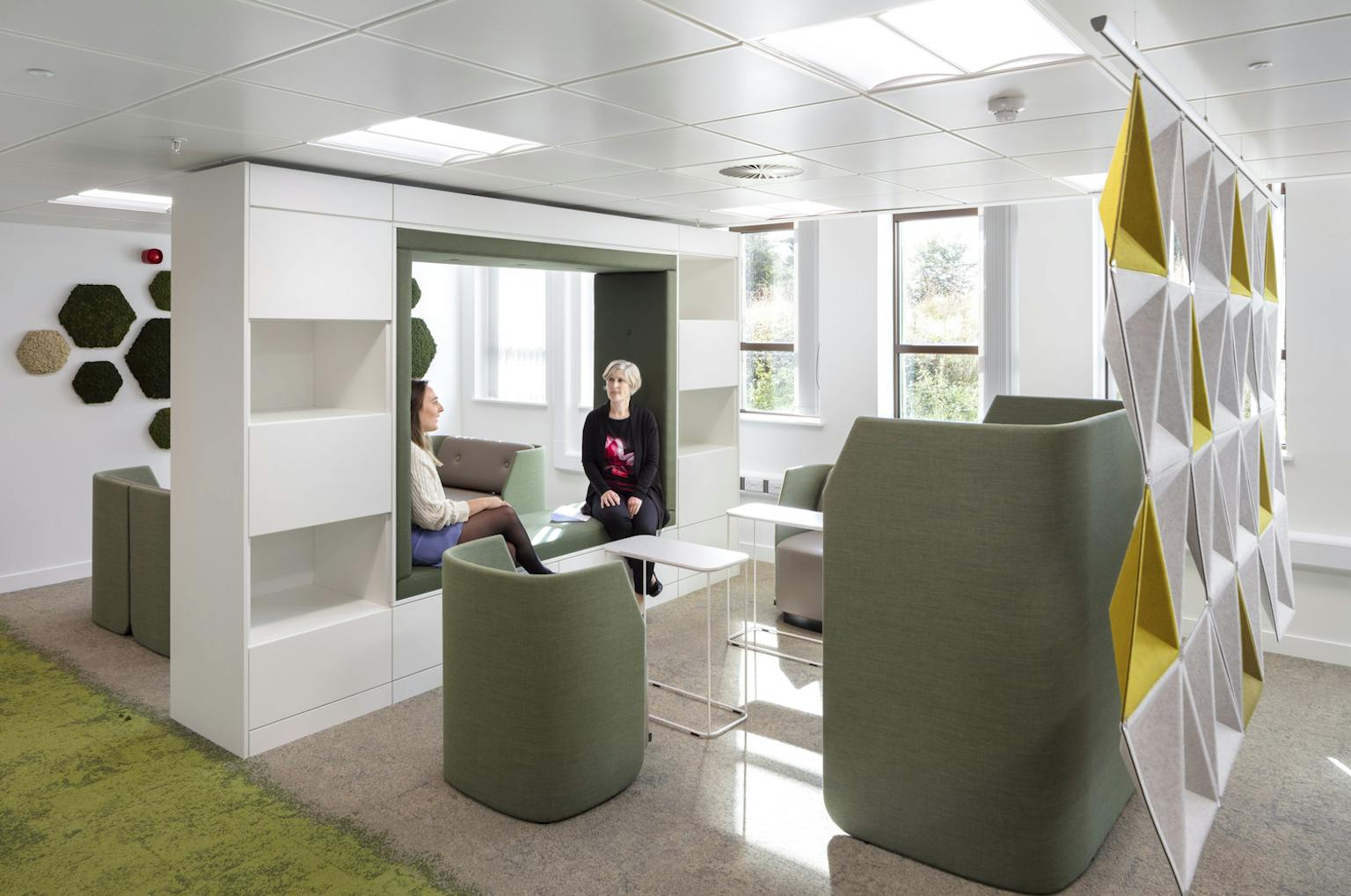 'I was nearly emotional with some of the changes as I never thought I would see them in my career. It will open up County Hall in a very different way to how we engage and include disabled people, something I've wanted for a very long time. The level of accessibility is equal and, in some areas, higher than anywhere I've seen.'
— Neil Howard, Equality and Accessibility Officer, Norfolk County Council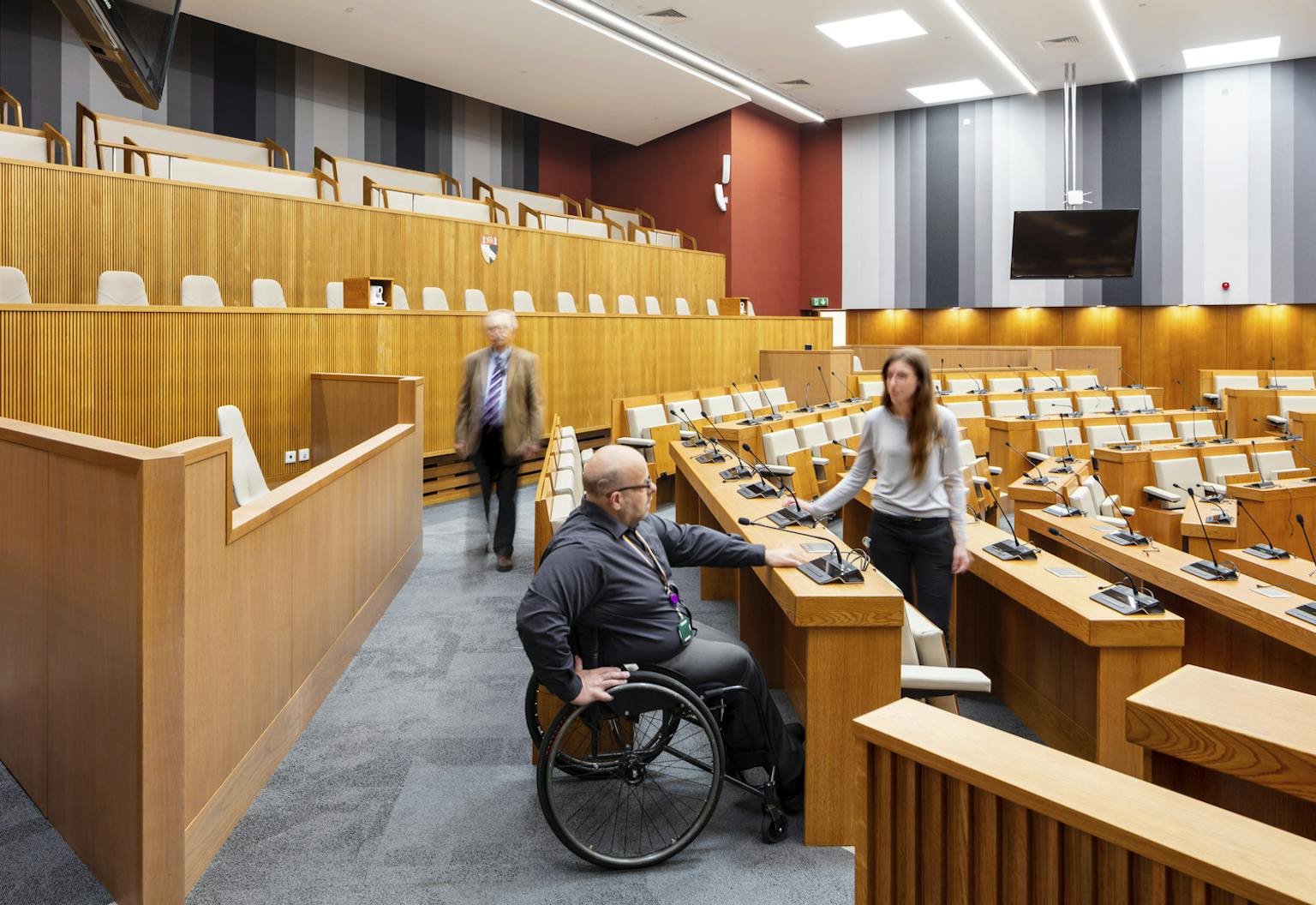 Championing Accessibility and Inclusivity
Regular discussion with and insights from the Council's Equality and Accessibility Officer ensured that accessibility and inclusivity remained at the forefront of the scheme.  
Colour, texture and pattern have been weaved throughout the building for wayfinding: strong patterns have been eliminated for the benefit of neurodiversity, while important physical changes such as increased designated wheelchair spaces, new ramped routes and automated doors ensure that every part of the building can be accessed, used, and exited safely by all.  
Shared spaces and individual working areas feature adjustable desks and worktops, designed to be used by all with ease. Finally, shower and WC areas integrate fully accessible facilities alongside standard provision.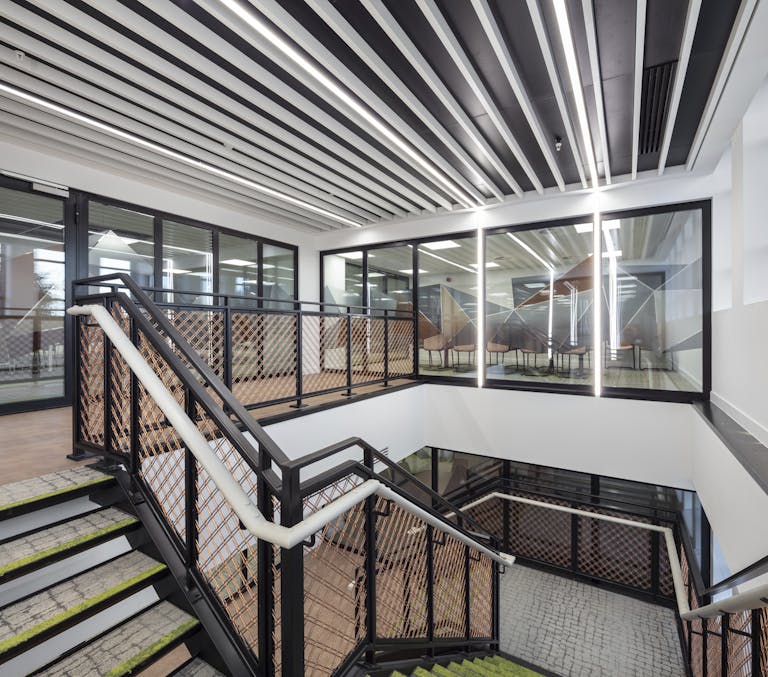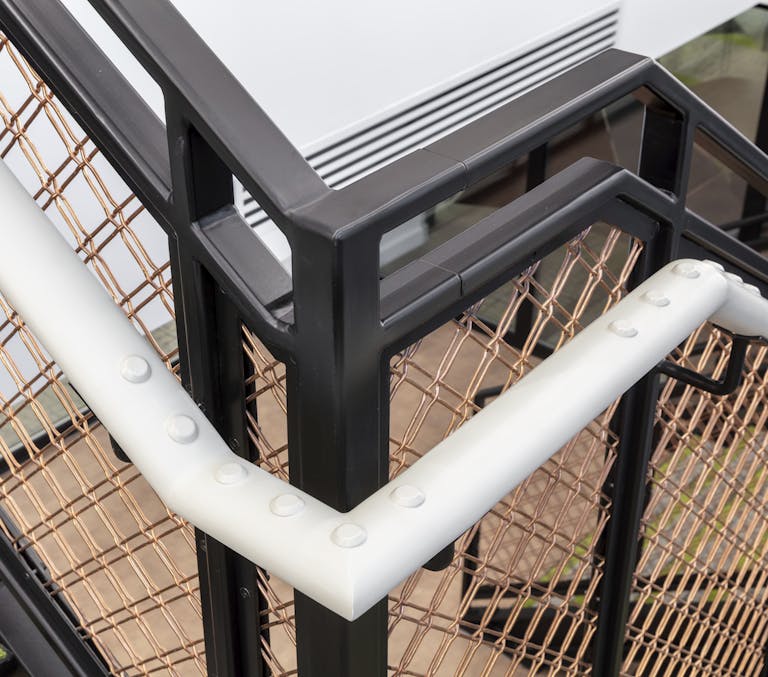 This staircase was key to the project. On the steps, green edges to allow people to know where the next step will start. On the railings, braille has also been added to support those will visual impairments:
Shared spaces and individual working areas feature adjustable desks and worktops, designed to be used by all with ease. Finally, shower and WC areas integrate fully accessible facilities alongside standard provision. 
Technological advancements have been coupled with simple changes to aid those with neurodiverse challenges and visual or hearing impairments. Wireless audio-visual systems, projectors and screens are accessible remotely from anywhere within a room, providing all with the means to work easily and efficiently.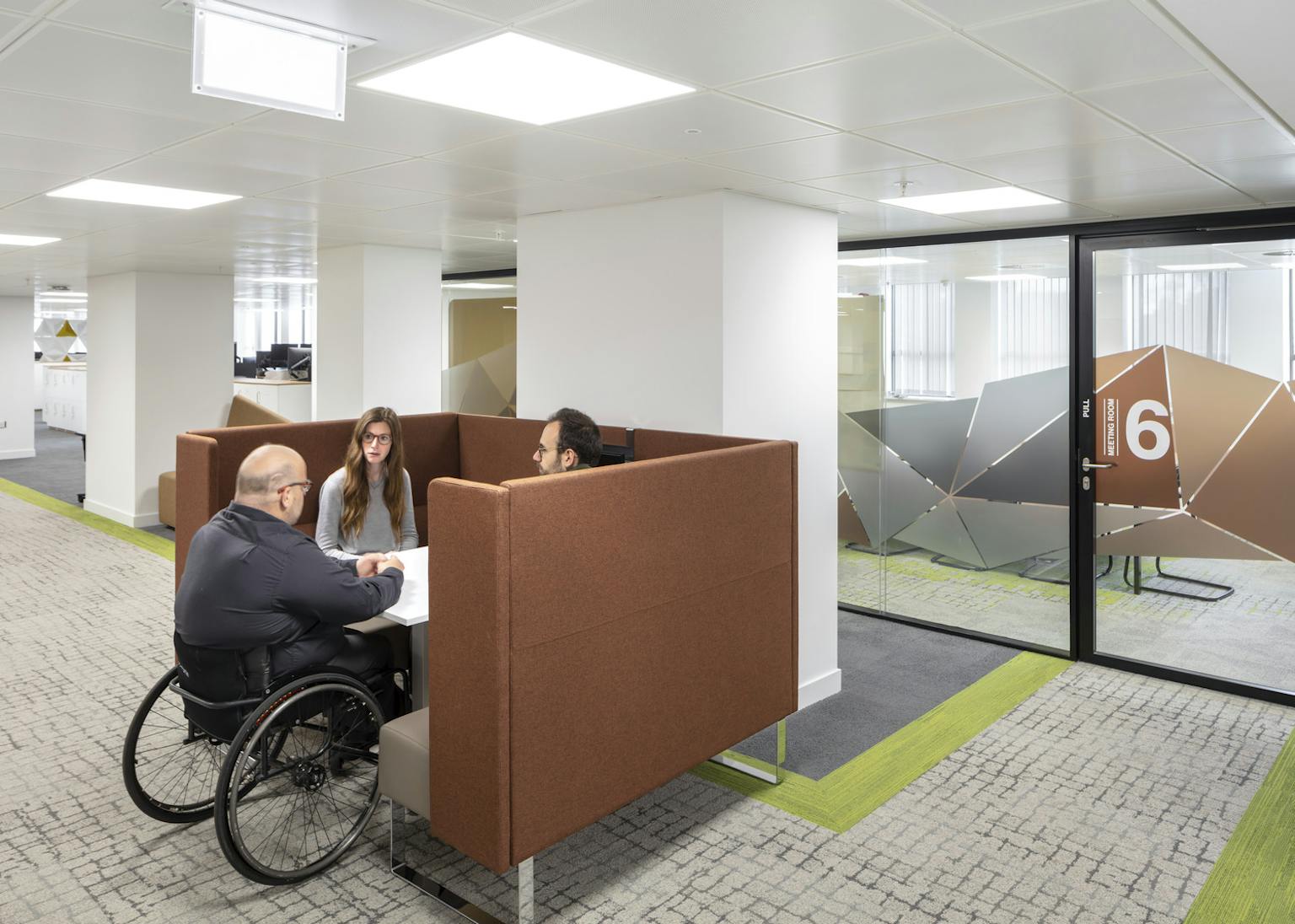 Refurbishing Public Areas
Upgrades to the building have enhanced the overall space and improved sightlines for all users. A single level on the newly enlarged Upper Foyer – replacing the now infilled central Lower Foyer area - unites multi-purpose spaces with the Council Chamber itself.  
The arms of Norfolk County Council are clearly visible throughout the building, fortifying a sense of identity for users - most notably, the motifs can be found throughout the new carpet layout. Reinforcing the building as being the heart of Norfolk's local government, these were conceived and included by special request of the Councilor.
New double-glazed windows; an insulated, external envelope over and around the Chamber; and improved safe maintenance measures have been introduced into the building, providing multi-faceted, energy saving improvements and addressing issues such as long-term leaks, overheating in summer and heat loss in winter. Reinforcing the concept of universal accessibility throughout the building, all users can control natural light levels at windows and overhead roof lights.
Recladding and Fire Strategy Led Improvements
Investigations into the condition of the existing façade, combined with the need to update the office and create a contemporary working environment, led to the installation of a new external cladding system. 
The new aluminum system is a modern continuation of the original 20th Century clay tile cladding, mimicking the intricate recesses, gridlines, and rhythms of the original exterior, whilst also improving thermal performance of the remaining original building envelope. 
New exit doors, ramped and stepped exits and a single level, internal feature staircase have streamlined emergency egress routes. 
'Purcell's Norwich team have shown an appetite for problem solving that focuses upon best value for the client and the end users. They demonstrate openness, transparency, cooperation, and an appreciation of other disciplines' values with good humour and professionalism. They have been instrumental in nurturing a fully collaborative team environment that has promoted creative solutions and been able to react quickly to project challenges.'
— Paul Owen, Senior Structural Engineer Overall Project Lead Mott MacDonald, RIBA 0-3 Phase 2, Norfolk County Hall
The benefits of this improved building, fit for purpose and fully accessible for all users, were immediately clear to see for Norfolk County Council. The success of the innovative scheme has already begun to inspire other Council-led workplace design initiatives in the area, facilitating the evolution of modern and inclusive workspaces throughout the county.