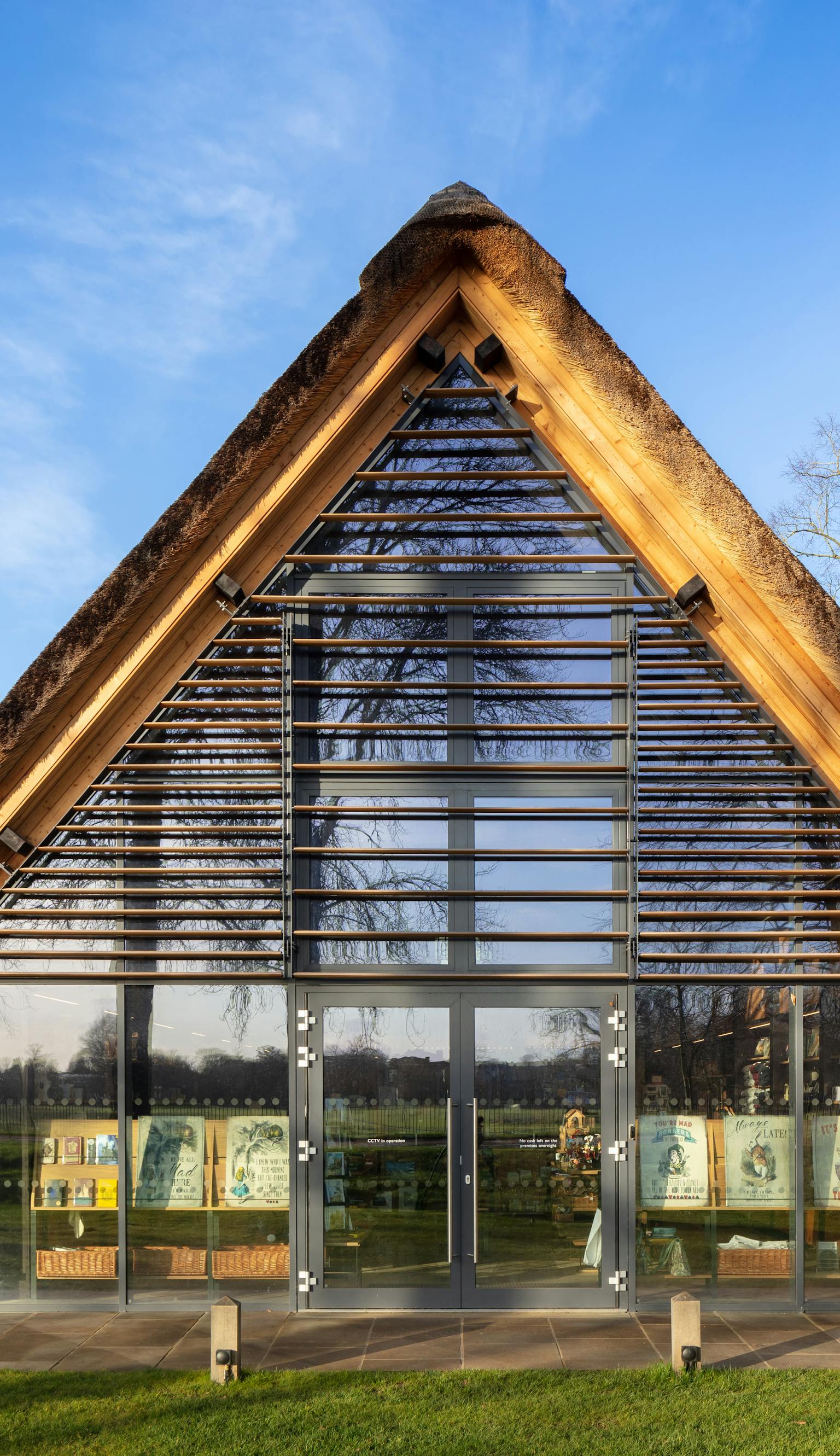 Location

South West

Client

The Governing Body of Christ Church, Oxford
Christ Church College, Oxford, commissioned Purcell to transform the historic thatched barn sitting within the sensitive Christ Church Meadows into a new visitor centre complete with an interpretation area, shop and café.
The project incorporates the re-use of the historic barn, enhances the visitor experience at Christ Church, and will enable the Chapter House, which was previously used as a tourist shop, to be restored.
Christ Church has many Grade I and Grade II*-listed buildings and is one of the largest colleges within the University of Oxford. It features a number of architecturally significant buildings including Tom Tower, designed by Sir Christopher Wren, and the Picture Gallery, designed by Powell and Moya.
Although a working university college and Cathedral Church, the site has become a popular visitor attraction within the city and approximately half a million tourists visit Christ Church annually.
The Christ Church campus sits next to the Grade I-listed Meadow inhabited by longhorn cattle. Within the meadow also lies the 19th century thatched barn, which had been used as a store by the facilities department for many years.
Our team recognised the opportunity to reuse the thatched barn and were commissioned to transform and extend it into a new visitor centre.
Conservation Management Plan
Our project team completed a Conservation Management Plan for the whole campus alongside a Landscape Management Plan, resulting in a strong case for the conservation scheme.
We simultaneously developed a design to extend the thatched barn in a way that eloquently integrated it within its historic context. Extensive consultation with stakeholders, Historic England and the local council informed the final proposals.
We brought together an expert team - engineers, archaeologists, historians, landscape consultants, as well as civil engineers - to realise the project.
— Partner, Jane Kennedy
Extensions
Our team completed two major extensions on the thatched barn and the building is now home to a ticketing office, shop, an interpretation space, seminar space and visitor facilities.
The efficient design provides enhanced experiences for the over 400,000 visitors who visit the site each year. Next to the visitor centre, we designed new works facilities for the maintenance and gardening staff of Christ Church.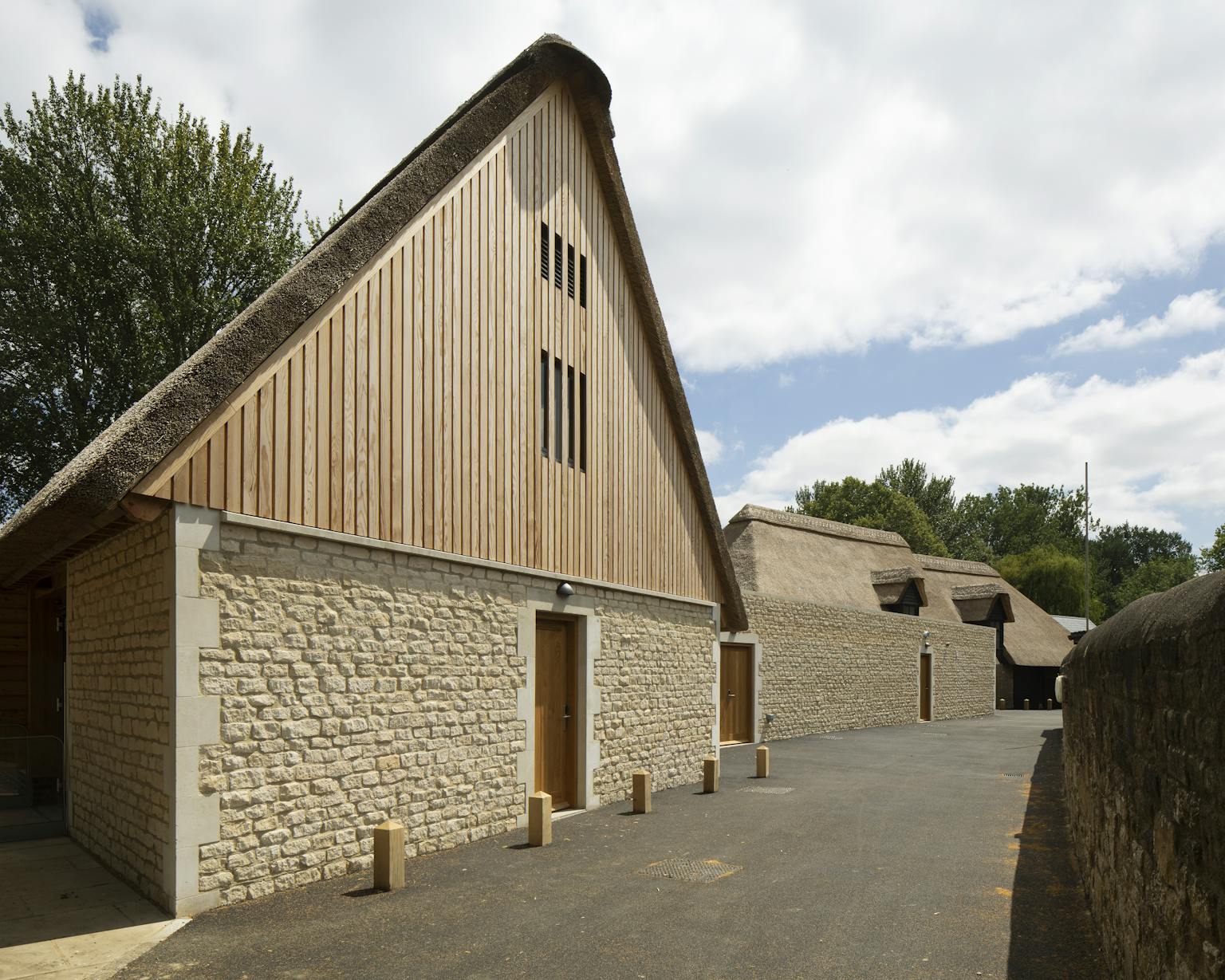 Materials
Using traditional building materials - timber, thatch, slate and stone - the team ensured that the extensions sit in harmony with their setting. The orientation of the new additions was carefully assessed to help frame the views of the surrounding meadow and Christ Church.
The addition of interpretation facilities informs visitors about the links between the meadow, the thatched barn and the institution's vast heritage.
Heritage skills were integral within the project in order to successfully refurbish the existing thatched barn. This is most evident in the barn's thatched roofs and the work enabled many new apprentices to learn and work on the project, ensuring the trade's legacy. The project has been very successful and demonstrates Purcell's commitment to prioritising the reuse of existing buildings.
— Senior Architect, Rory O'Brien
Location: Christ Church, Oxford
Funding: Private
Client: The Governing Body of Christ Church, Oxford