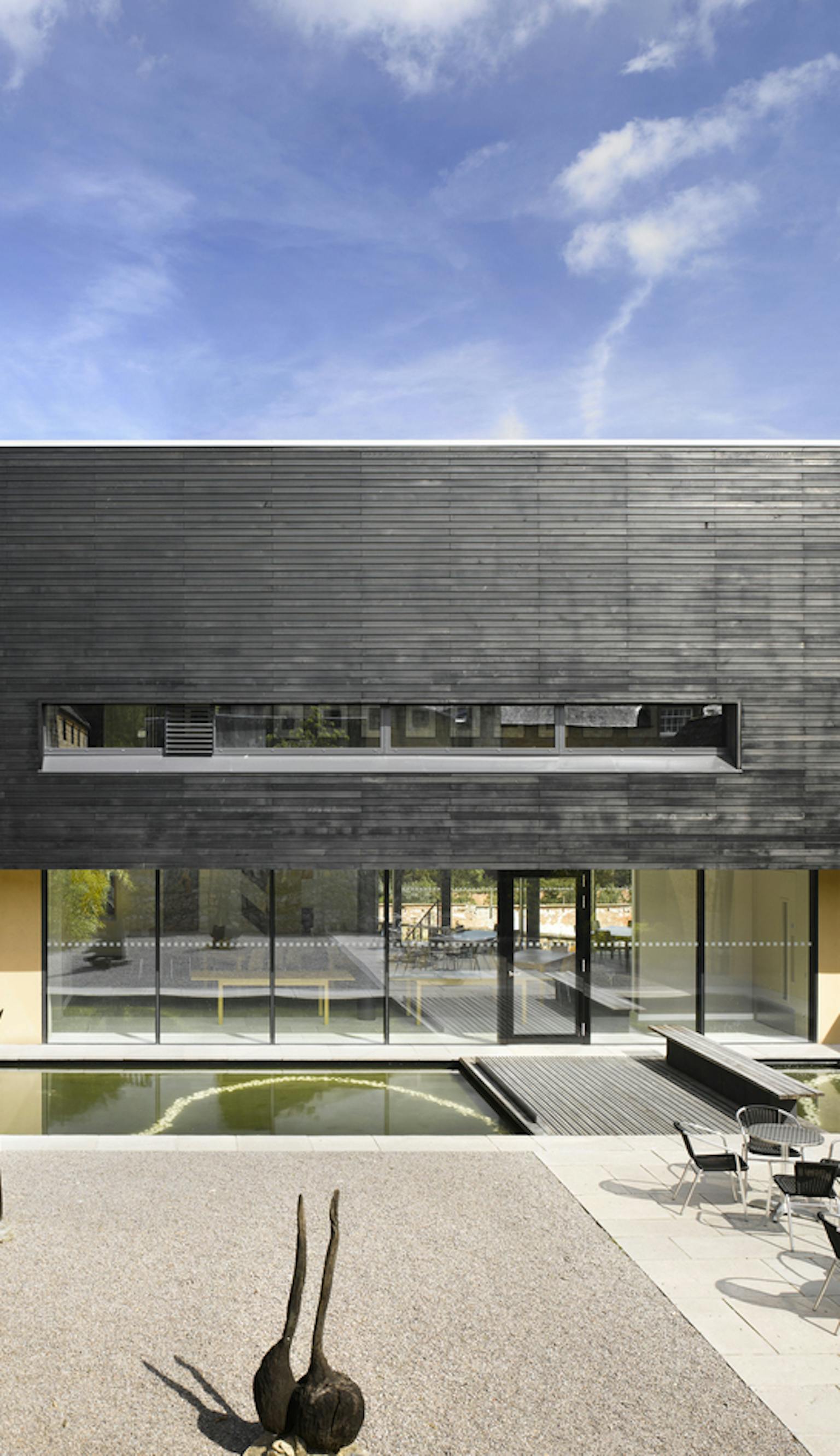 Location

South West

Client

Somserset County Council
Set around, within and above the walled gardens of 16th century Dillington House, this new residential art centre provides fully accessible accommodation for 16 artists with equal access to new common facilities, performance spaces and studios.
As experts in the field, much of our work focuses on the responsibility we share to bring historic buildings, gardens and landscapes in line with today's higher standards in legible, accessible and inclusive design. Here our approach was to propose an entirely new collection of buildings and spaces that not only provide access and education for all, but that also serve to enhance the setting of one of Somerset's most important listed houses and parklands.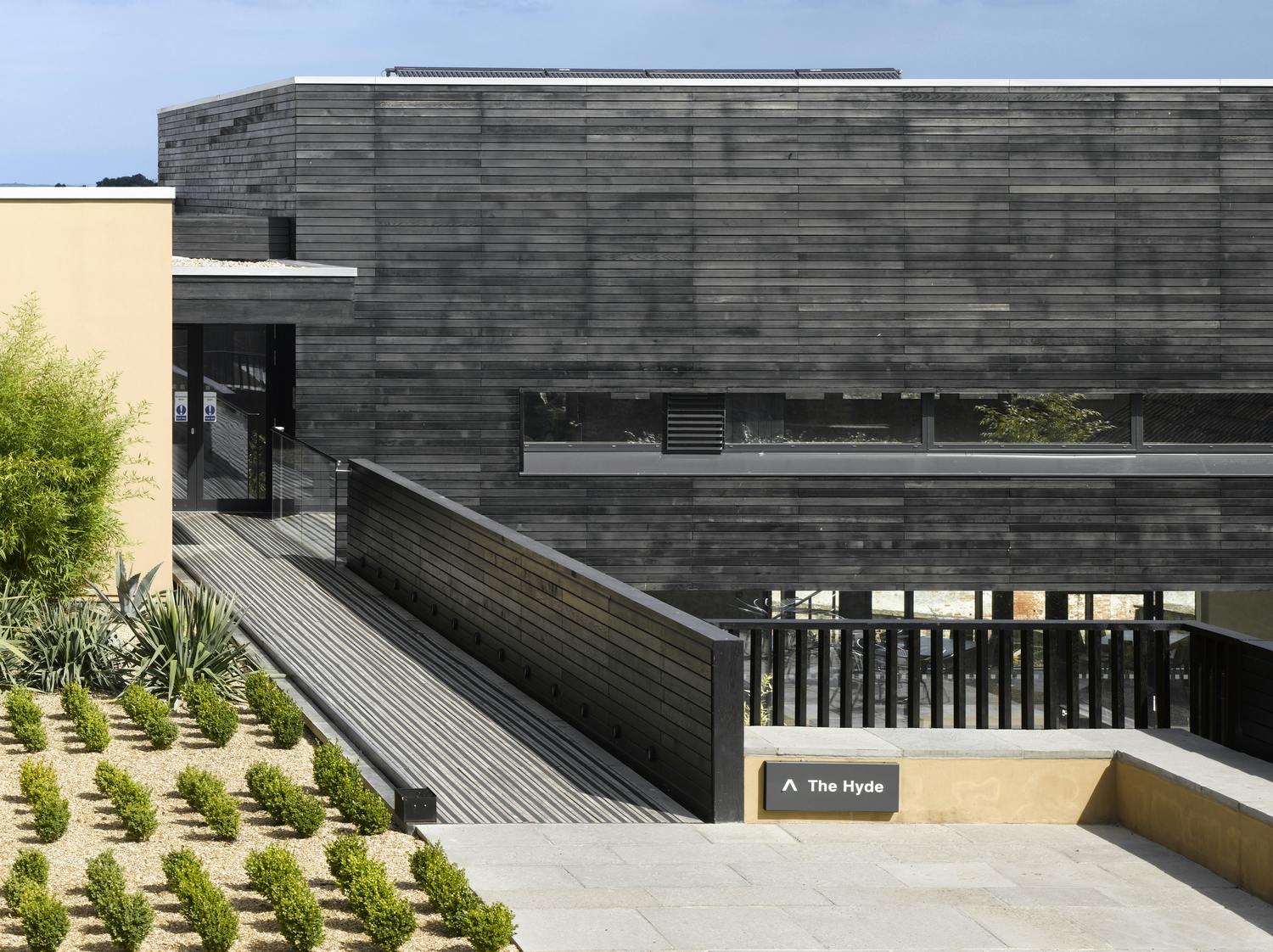 Design
Acquiring a lease in the 1950s, Somerset County Council opened Dillington House as a residential art centre, which at its time was a relatively unique cultural experiment. Experiencing varying seasons of success, Dillington learnt how to capitalise on complementary markets, adding weekday conference and weekend wedding hospitality to what has matured into an extensive programme of residential and day courses for adults who have an interest in visual arts, literature and music.
Set within its 3000 acre grade II* listed parkland, the estate comprises a fine grade I listed 16th century house, an 18th century mews that was adapted in the 1960s to include a 180 seat theatre and modern studio/gallery, and a series of walled gardens that step down the site to capture fine views across the Somerset Levels. In 2008, in a bid to improve inclusivity, Purcell were commissioned to undertake a strategic masterplan. This led to the design and construction of a new residential art centre called The Hyde that provides fully accessible accommodation for 16 artists, two substantial new multipurpose art and performance studios, a generous new common room and dining hall, and a series of intimate accessible gardens.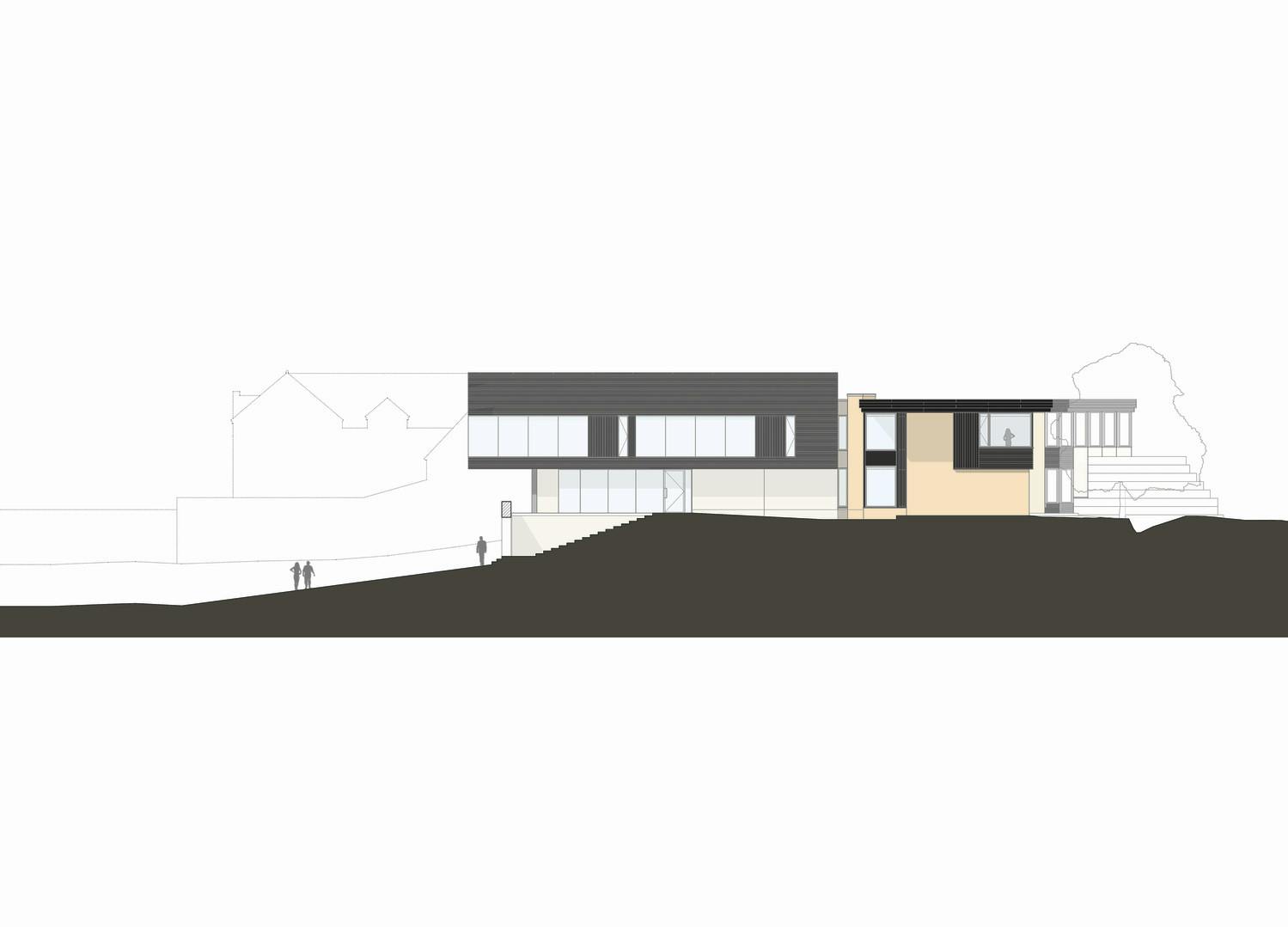 The integration of these new places and spaces within the setting of the existing house and gardens relied on strong responses in both plan and section: in plan working with the geometry of existing buildings, boundaries and walls, and in section by exploiting opportunities presented by the natural topography and more structured level changes. The result is a building of two parts: one private and virtually invisible on approach, hunkering down behind a garden wall and planted rood; the other much more public and assertive, clad in black stained timber and sitting up proudly to enclose a new sunken sculpture garden to the south and to take in commanding views across the Levels to the north. This formal duality in the building's composition extends further, influencing many of the project's more detailed design decisions. These include the configuration of that virtually invisible wing of 16 accessible bedrooms that enjoy their position between the collegiate passageway and private contemplation courtyards that can be viewed and accessed through each bedside bay window, and the building's principal common room and dining hall, that sits fully glazed beneath the elevated timber-clad studios, held between the sculpture garden to the south and a more informal walled garden to the north, to capture those all-important expansive northerly views.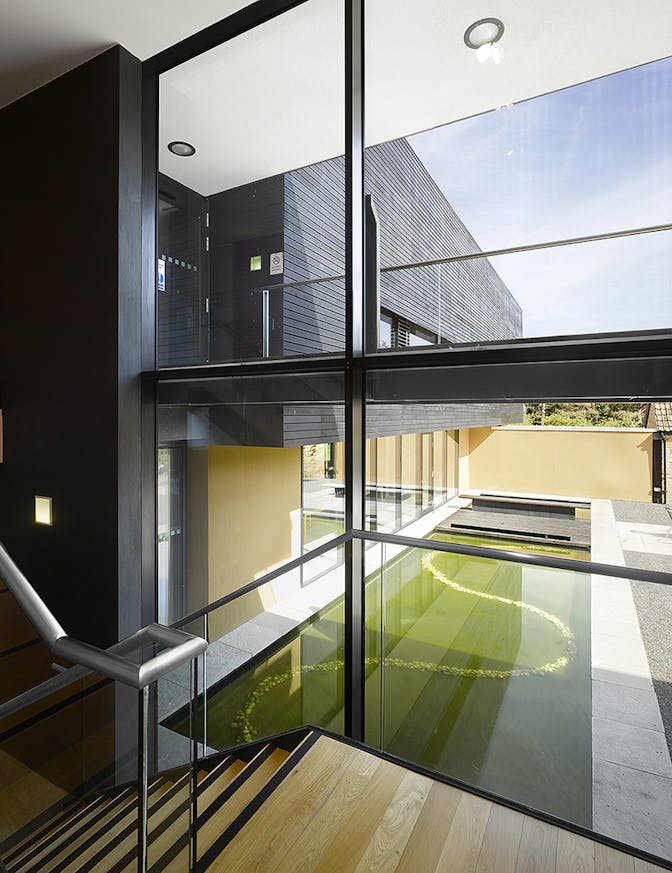 However, the expression of duality ends when it comes to how the architecture responds accessibility and inclusivity, as these buildings have been purposefully designed buildings to be used and enjoyed by everyone, without difference or differentiation and without the plethora of fittings and special provision usually associated with disabled access. Instead, we detailed a suite of tailor made fixtures and fittings to cater for the needs of able bodied and wheelchair users alike, in a series of new internal and external rooms that focus on their immediate setting within the walled gardens, their more distance relationship to the landscape beyond, and their coexistence and connection with each other.
The path that leads to The Hyde extends an implied axis that runs between the 18th century mews and pheasantry towards the prominent new studio block. In contrast to the drama of the sunken garden that is slowly revealed on the right, the accommodation wing to the left forms a blank garden wall, finished an earth coloured render and kicking back off axis to make way for a carefully planted new landscaped garden. It isn't until guests enter the building that they understand where their bedrooms are. Crossing a bridge that resonates as they pass over the reflecting pool, guests turn left, passing through a threshold in the garden wall to catch their first glimpse of the collegiate passageway. Articulated by the staggered arrangement of each private room, the semi-private space between bedroom and wall creates widening outside each of guests' front door.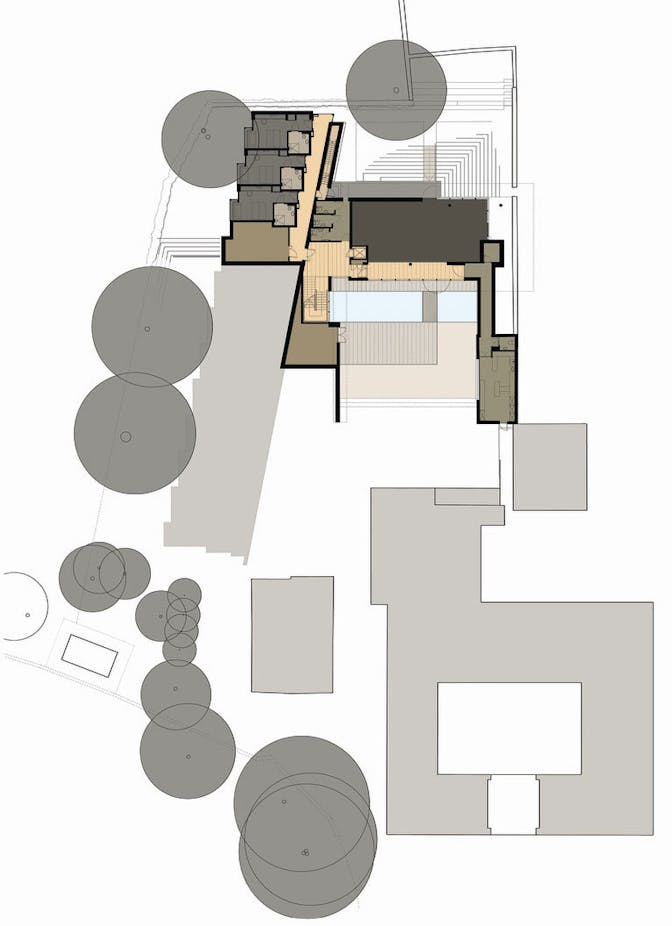 Turning right from the entrance leads onto two new 100 sq m studios, from where a second spatial surprise is encountered, previously concealed, but powerfully revealed on entry to either space as full height windows frame a series of exhilarating elevated and expansive views that reach out to the horizon and beyond.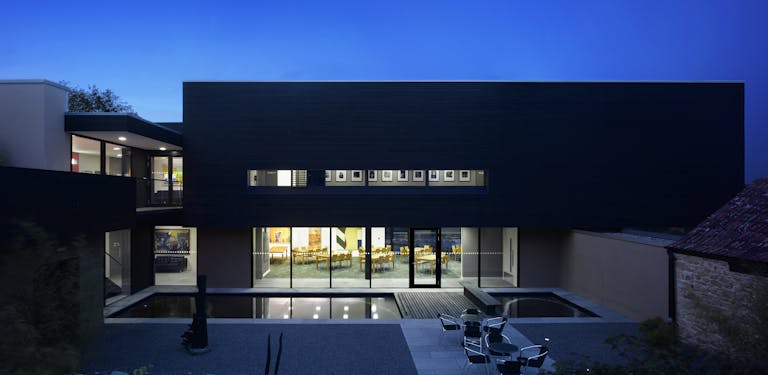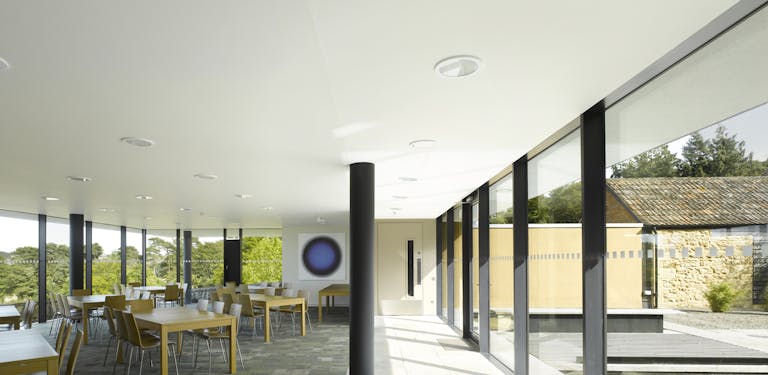 A lift and stair connect guests to a lower lobby, illuminated and animated by light bouncing up from the Sculpture Garden's south facing reflecting pool, and giving direct access to three more private rooms and The Hyde's generously lit common room and dining hall.
Inclusive Design
From the outset, our client demanded the most creative approach to inclusive and accessible design. This was not only to help remove the stigma associated with disability, but also to demonstrate that is was possible to design public and private spaces that would be a delight for everyone to use.

The degree to which this was a priority was demonstrated by the mock up that the client paid to have built, which enabled us to invite potential users to test the design by spending a night in a mock up that was constructed in Dillington's own Mews Theatre. This helped ensure the rooms achieved full accessibility without relying on standard disabled access equipment, allowing members of a local disability access group to test and comment on a number of innovative bespoke features, such as hand holds and supports that were carefully detailed into shelves, wardrobes with adaptable rail heights and generous wet rooms rather than conventional accessible showers. The mock-ups were also used for testing lighting, colour selection, the positioning of light fittings and furniture. Providing a bench mark for final finishes and standards of craftsmanship, the mock-up enabled the client to experience other relatively unique details that include the distinctive exposed timber ceilings, timber panelling, and fitted desks. The process also enabled the client to better understand the final detail and configuration of the bedrooms' distinctive bay windows, which step out in plan to bring privacy to small external terraces, preventing overlooking whilst giving each room access to more extensive views.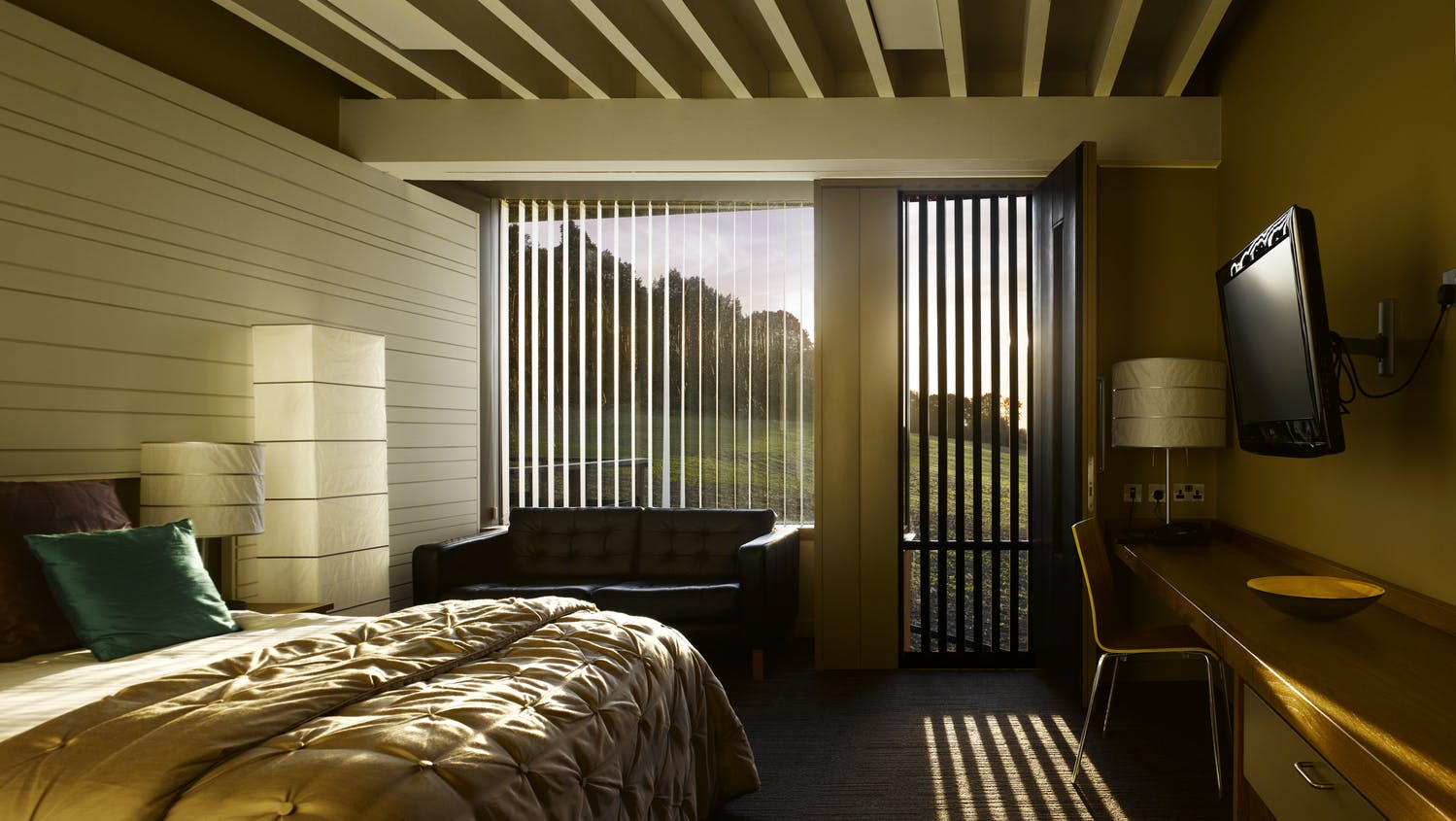 Behind the apparently audacious and contemporary form of these buildings, lies a more subtle landscape-led approach to design, masterplanning and placemaking, as the new buildings and gardens were to occupy and transform previously an ill-defined and forgotten part of the site. Situated to the west of the main house incorporating a partially enclosed and disused kitchen garden, there was an opportunity for the new buildings and gardens to a new sense of place in a location where the formal planning of the estate was eroding and becoming informal. Furthermore, the client stressed the importance for the new building to quickly feel like 'home', especially for guests who decide to stay for just one a night.
And, finally there was an aspiration that all common areas should engender a sense of sociability and community, and that people could come together to engage in a common intellectual and creative purpose in spaces that would delight, stimulate and surprise its users. To this end the transformation of the disused kitchen garden tested our ability to produce a harmonious composition of solids and voids, in a sequence of spaces that would charge the relationship between individuals moving through and using the spaces, and choreograph their easy transition between internal and external spaces. The result is two contrasting new walled gardens that provide a pair of conjoined external rooms in the landscape.
The foreground courtyard is excavated into the slope of the ground with a reflecting pool running across its width that brings animation and articulation to the common areas in the studio block. The background courtyard is more private, enclosed by the kitchen garden wall beyond. In this space levels have been terraced down from the new floor level to the original courtyard level to create a more private space where residents can sit and looking out across the landscape and from where they can also walk out, passing through an opening in the wall that sits beneath the studios cantilevered form, via the paddock, through the gardens and full circle back to the main house, where tea is served each day at four.
As part of this meandering route of gardens and buildings, as an ensemble of elements, the entrance path, bridge and buildings that we have designed create a threshold between two new walled gardens, adding drama to the approach, forming a new entrance and a transition between the wider world and the retreat of the residency.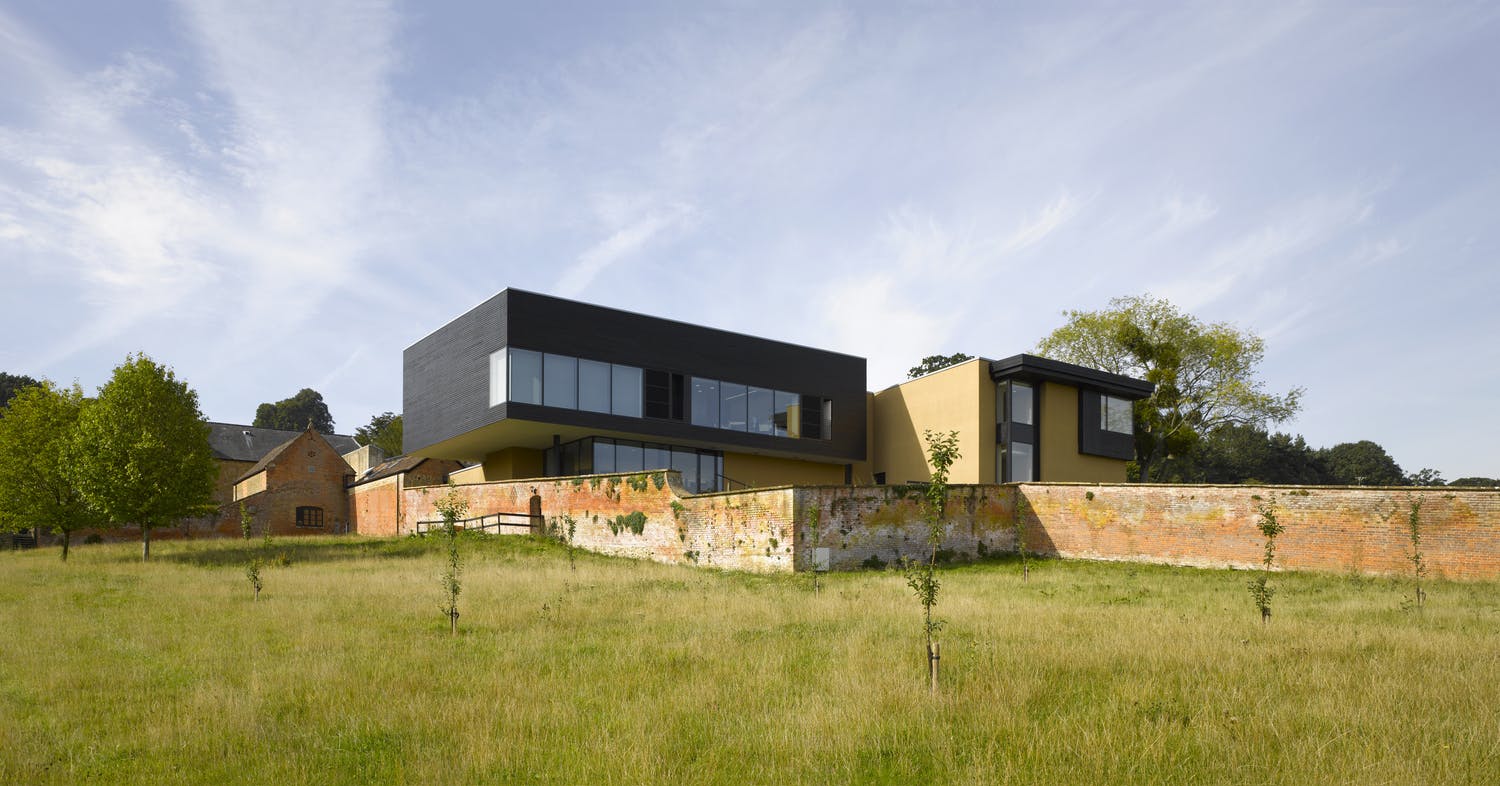 Location: Ilminster, Somerset
Client: Somerset County Council
Listing status: Grade I listed, Grade II* listed parkland
Awards: RIBA Award 2010
Construction value: £2.5m