Mile End Library extension granted planning permission
26 May 2021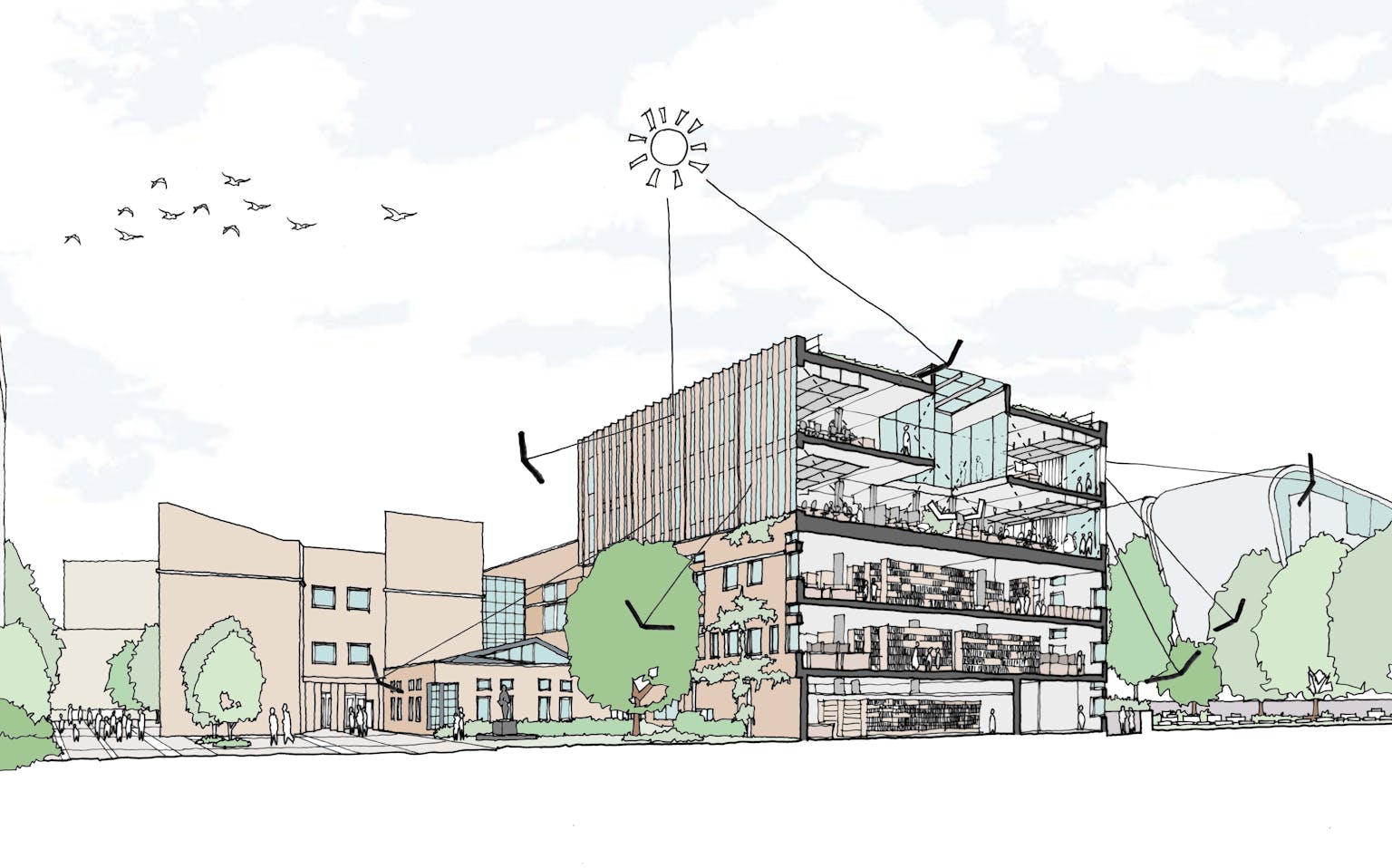 Planning consent has been granted by London Borough of Tower Hamlets for a two-storey rooftop extension to the Main Library at Queen Mary University of London. Located at the university's Mile End Campus, the extension will provide individual and group study spaces with stimulating views over the surrounding campus and wider cityscape.

The extension is part of a multi-phase rejuvenation of the library that will see the existing interior sympathetically refurbished and updated. The scheme will improve the quantity and quality of study facilities for students, ensuring an environment conducive to academic excellence in a post-Covid world.
This will redefine the students' experience of the library. The light and flexible spaces created will offer sweeping views over the surrounding campus, improving the study environment offered within the library. The vertical addition to the library will revitalise a key part of the campus.
— James Murray, Senior Architect
Specifically, the extension will add 1,550m2 of floor space and provide highly flexible spaces dedicated to student study, with large open plan study halls catering for diverse types of study. The project is due for completion in autumn 2022.
The extension will form a prominent addition to the existing library. It will be clad in glazed curtain walling with bronzed metal panels and projecting fins. The vertical fins will provide shading reducing internal heat gains and glare, while creating dynamic visual interest on the façade as the shadows change throughout the day.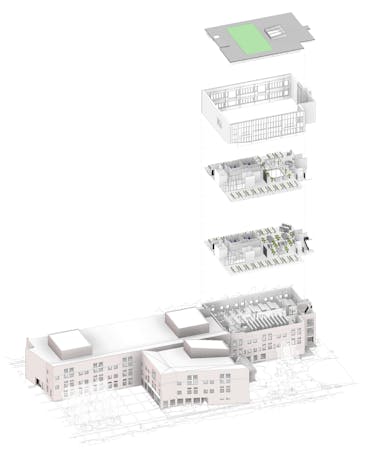 Sustainability and user experience is central to the scheme. The extension will achieve BREEAM Very Good. By extending the library vertically it will avoid demolition and keeping the surrounding open spaces. The proposed biodiversity enhancements include climbing plants on the existing walls, a biodiverse roof, and nesting boxes for wildlife.
The extension will be highly insulated, and sunlight carefully managed, to reduce energy consumption. The roof will have a large array of solar panels and air-source heat pumps to reduce CO2 emissions. The study spaces will receive natural light and long views out over the skyline to create a stimulating place to learn.
Working closely with the University's enthusiastic and dedicated library team, the library extension at QMUL is a wonderful opportunity to explore the learning environments of the future. We're delighted that the extension to the library has been supported by London Borough of Tower Hamlets through the granting of consent.
— Peter Buist, Regional Partner